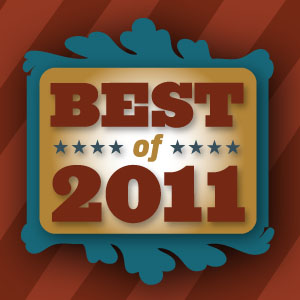 There were a lot of great movies this past year. I've by no means seen all of the best movies of 2011 but I have seen quite a few.
I watched a total of 140 new movies in the past year, not all of them were released in 2011. That means I had never seen them before, so this number excludes all the movies I watched that I had seen before. Out of the 140 movies I watched, twenty-nine of them I scored 4 out of 5. And only three of those scored a 5 out of 5.
I have decided to rate these from 10
th
place down to 1
st
place, as opposed to no particular order. You will also find a list of honourable mentions at the bottom, for all the other 4 out of 5's.
I've also listed one movie from 2001, that I had never seen before, and I thought was brilliant.
So, starting in tenth place:
10. Bridesmaids
This has already featured on my
Must See Girls Movies of 2011
list. It's basically The Hangover for ladies. It's also one of the funniest movies I've seen all year!
9. Tangled
Easily the best animation Disney have made in the last 20 years - a must see for guys and girls.
8. Buried
Excellent, considering Ryan Reynolds is the only person you see the whole movie, and he's buried in a coffin. Very tense in places throughout.
7. True Grit
Great western, not seen the original but this is definitely worth a watch. The young girl is excellent in her role
6. Super 8
An excellent blend of E.T. and Stand By Me by J.J. Abrams
5. Crazy, Stupid, Love.
Brilliant! Another of this years best movies with amazing performances from the whole cast
4. Winter's Bone
Exceptionally real and harrowing, the tension builds up and up... definitely worth checking out if you're tired of the usual commercial crap out there
3. Black Swan
Excellent and truly creepy, will leave you wondering WTF?!
2. The Guard
Probably the funniest movie I've seen this year. Dark humour and sarcasm with loads of witty retort. If you liked
In Bruges
, you'll love this! If you didn't see that, you're a heathen :)
1. Drive
Best movie I've seen all year. Amazing cinematography, amazing film!
Honourable Mentions
(in no particular order)
The Adventures of Tintin: The Secret of the Unicorn
127 Hours
The Help
Attack The Block
Fast Five
Your Highness
X-Men: First Class
Winnie The Pooh
I Am Number Four
Gnomeo & Juliet
Inception
Legend of the Guardians: The Owls of Ga'Hoole
Machete
Real Steel
Ironclad
Easy A
Skyline
The Adjustment Bureau
The Girl Who Kicked The Hornet's Nest
The Fighter
Skateland
One Day
Eat Pray Love
Best Of The Vault
And lastly, from 2001,
Mulholland Drive
. Mind blowing! A very clever piece of editing by David "Twin Peaks" Lynch. If you've seen it and want to discuss, let me know...
And that's it for 2011! See you all again in 2012. Keep checking back for new reviews.