Are an hour and a half of clunge and vagina jokes too much for the big screen?
Synopsis
Four socially troubled 18-year-olds from the south of England go on holiday to Malia. Based on the popular TV series of the same name.
Who's In It
Simon Bird - Will (the nerdy one)
James Buckley - Jay (the clunge obsessed one)
Blake Harrison - Neil (the stupid one)
Joe Thomas - Simon (the whiny one)
Anthony Head!
Rupert of Buffy the Vampire fame
. In this he plays Simon's divorced dad, who'd never previously featured in the show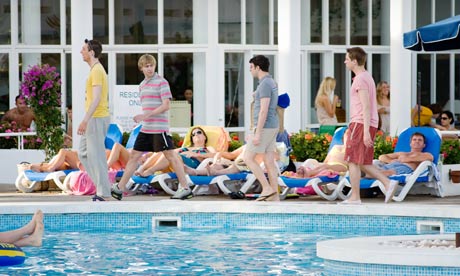 What I Thought
Absolutely love it! I'm a big fan of the show though. There are long, laugh out loud scenes similar to the TV show, I'll probably have to watch it again as I'm sure I missed some lines because I was still laughing at the previous ones.
There are some uncomfortable scenes too, similar to The Office. One that springs to mind is Will having a go at a dad with a disabled daughter by the pool side, as pictured above.
Simon and Jay characters are however starting to grate a bit. Simon is (supposed to be) 18 years old but he acts like a small child on more than on occasion. Who's behaves like this? And what sort of reality is Jay living in by constantly going on about women and how much 'vag' he gets, when it's obviously not true. Overall, the guys are starting to look old too.
One thing that did bother me was the boob/dick ratio. There is more on screen time for dick than there is for boobs - not good. In fact, you only see boobs once, and briefly. You do however see two dicks, and one of them is waving around for ages. This needs to be rectified in inevitable sequel, which is sure to happen as this took £44 million at the box office!
Memorable Quotes
Wow! Too many to mention. Here are a few of my favourites though:
"S'all right mate, I understand, anyone would miss those tits."
"No it's not that, Neil."
"Is it her lovely snatch?"
" Two week of sun, sea, sex, sand, booze, sex, sand, fanny and tits, and booze and sex."
"Actually can one of youse [sic] help me, I think she may be a two man job."
"This girl's so wet for me I can hear the waves breaking in her fanny."
"It'll be like shooting clunge in a barrel."
Rating
4
/5 - A must see for fans of the TV show!
Trailer
Rather than show you funny moments from the movie, check out this teaser trailer which sums it all up in one line at the end
"You better bring yer wellies, 'cause it'll be knee deep in clunge."