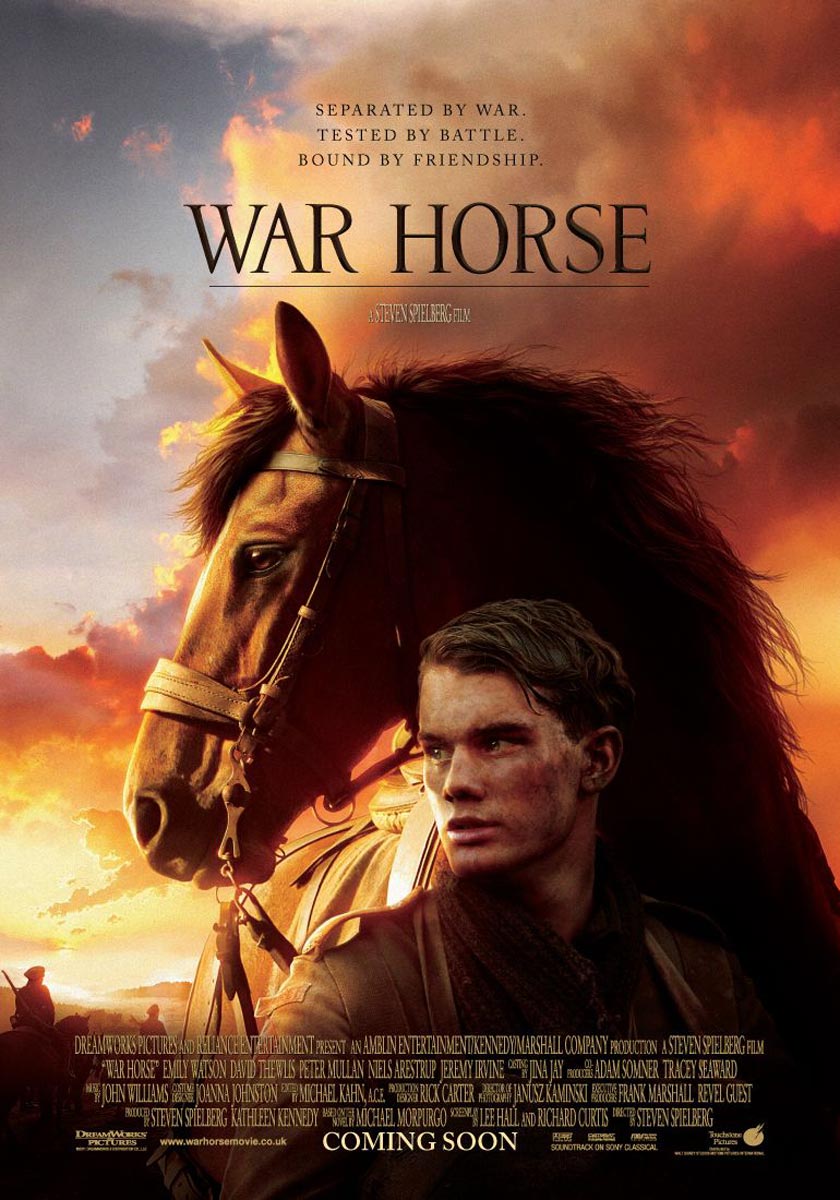 How does Steven Spielberg's dramatisation of the World War I stage play about a horse stand up?
Synopsis
Young Albert enlists to service in WWI after his beloved horse, Joey, is sold to the cavalry. Albert's hopeful journey takes him out of England and across Europe as the war rages on.
Who's In It
Jeremy Irvine
- The young boy who plays Albert and raises Joey the horse
A horse!
Joey
Benedict Cumberbatch!
Currently doing a sterling job as
Sherlock
on the BBC and recently announced at the bad guy in J.J. Abrams' Star Trek 2
Tom Hiddleston!
The bad guy Loki in
Thor
and the upcoming Avengers
Cumberbatch & Hiddleston in War Horse
What I Thought
I've not read the children's book by Michael Morpugo but I have seen the
stage play of War Horse
and I can say that this movie is every bit as powerful as that. It had grown men weeping at the screening I attended. Be warned folks, this is a tear-jerker!
The movie focuses largely on the horse as it makes its way through the war, changing sides multiples times. There are a number of characters as a result as the storyline follows the horse. There are a couple of big names in the film as can be seen above but they're not in it for long. The horse steals the show with its bond to the young boy played by Irvine, who gives a great performance, as do his parents in a supporting role.
The biggest name associated with this film however is Spielberg himself. Anyone who's grown up watching his films will know they're in for a treat. If you've seen Saving Private Ryan you'll have a good idea of the realism of war that you can expect in this movie. The open field horse charge and the trenches of the Somme are particularly harrowing.
For the most part real horses are used throughout the movie. There are however some scenes where computer generated horses are used as there's no way some of the stunts could have been achieved otherwise.
Spielberg adds a change of his own towards the end of the film. It's not so much as a change but more of a slight addition to the original theatre play storyline. It doesn't detract from the film, in fact if anything it makes it a slightly more emotional ending. The sunset filter used at the very end of the movie will probably have people divided into two camps, those who like it (me) and those who don't.
Memorable Quotes
"I could love you no less, but I could hate you more."
"Can you imagine flying over a war and you know you can never look down? You have to look forward, or you'll never get home. What could be braver than that?"
"You speak English good." - British soldier
"I speak English well!" - German soldier
Rating
4
/5 - War Horse is a powerful and emotionally charge film. A return to form for Spielberg
Trailer
If You Enjoyed This, You Might Also Like